Anthony Buono is rated as Superb 10.0/10.0 by the online legal services website Avvo. This is the highest Avvo rating possible for an attorney. Buono is one of the few attorneys in the Capital District to have earned a superb rating.
The Avvo Rating is an evaluation a lawyer's background by Avvo, an online legal services marketplace. The rating is calculated using a mathematical model that considers the information shown in a lawyer's profile, including a lawyer's years in practice, disciplinary history, professional achievements and industry recognition. For more information on Avvo ratings click here.
Columbia County Bar Association
President 2015 to present
Committee on Character and Fitness
Appellate Division Third Judicial Department, 2016 to present.
The National Advocates – Top 100 Attorneys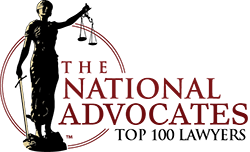 In January 2015 Anthony Buono was admitted to the prestigious National Advocates as one of the Top 100 matrimonial Attorneys in New York State.
The National Advocates is an invitation-only professional organization composed of the Top 100 attorneys from each state who serve individuals and families who need attorneys to represent them in the American legal system. Members of The National Advocates exemplify superior qualifications of leadership, reputation, influence and performance in their area of specialty. Membership in The National Advocates is limited to the Top 100 Lawyers from each state who serve individuals and families in the legal system. Prospective members are carefully screened before being invited to join.  For more information on The National Advocates Top 100 Attorneys click here.